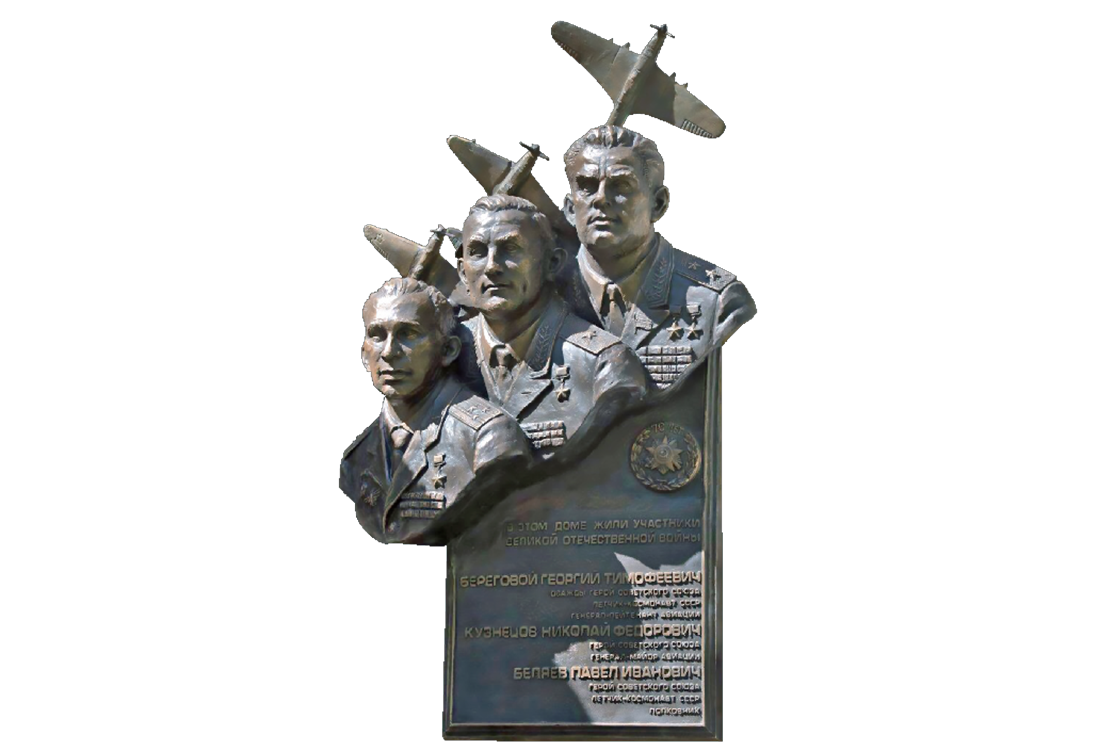 On May 9, 2015, a memorial plaque commemorating the cosmonauts who participated in the World War II - Georgiy Beregovoi, Pavel Belyaev and Nikolai Kuznetsov – was opened in the town of Zvyozdny. The opening ceremony was attended by Valery Tokarev, the head of Zvyozdny; Valery Korzun, deputy head of the Astronaut Training Center; Andrey Sledkov, the sculptor of the plaque. The relatives and spouses of the astronauts Valentina Gagarina and Tatyana Belyaeva were also in attendance.

"During the war, George Beregovoi conducted 185 flights on the storm trooper. When he was only at the age of 23 he was already awarded the title of Hero of the Soviet Union," his brother, Lieutenant-General Mikhail Beregovoi, told the assembled guests.
He also added that the plaque in honor of the heroes of the USSR corresponds to the contribution that they made to the overall defense capabilities of the nation.

While in the process of creating the portraits for the memorial plaque, Andrey Sledkov used photos of cosmonauts from various archives. He even asked for advice from the relatives of the heroes in order to make the most accurate resemblance of the honored men. The memorial plaque is situated on the facade of house No. 2 in the town of Zvyozdny, where Georgiy Beregovoy, Pavel Belyaev, Nikolai Kuznetsov and Yuri Gagarin once resided.